Warning
: Undefined array key "width" in
/home/vikasreddyd/public_html/wp-includes/media.php
on line
1659
Warning
: Undefined array key "height" in
/home/vikasreddyd/public_html/wp-includes/media.php
on line
1660
Warning
: Undefined array key "width" in
/home/vikasreddyd/public_html/wp-includes/media.php
on line
1659
Warning
: Undefined array key "height" in
/home/vikasreddyd/public_html/wp-includes/media.php
on line
1660
H
unting the 
Krayt Dragons
in the
Krayt Graveyard
(7450, 4531)
of Tatooine was the end-game for most players in
Star Wars Galaxies
. The creatures here were notoriously difficult, and required a well-equipped group of bloodthirsty maniacs to take down. Krayt Dragons from all around Tatooine traveled to this deserted part of the map to live out their final days and die with their ancestors, a ritual that has remained with them since the very beginning.
A Guide to Krayt Dragons
One of the most fabled beasts of Tatooine, the Krayt Dragon is said to keep growing larger throughout its lifetime. The head of the dragon is heavily armored, and five large horns grow from its crown. Like some reptiles, the krayt dragon ingests stones and boulders and holds them in a series of gizzards. The smoothest of these stones are known throughout the galaxy as Dragon Pearls, and are extremely valuable.
The thrill of the hunt is not the only thing that drives the brave members of a Krayt Dragon Hunt. The experience as well as the lucrative Pearls play a part in seducing a hunter into risking his life to kill such a beast. The pearls, as above mentioned, are the gullet stones of the Krayt, and are seldom found. When they are found, they are rated. Few are perfect, but some are close by. One thing about Krayt hunting is for sure; hunters skilled enough to succeed will earn prestige from their fellows.
My First Krayt Dragon Hunt – October 25th, 2003
One fateful day, I joined a pick-up group that based out of Mos Eisley. We embarked on a long journey on vehicles to the infamous Krayt Dragon Graveyard.  It wasn't long until I was one-shotted by this Juvenile Canyon Krayt Dragon and took so many wounds from a single blow that my entire mind and most of my action bar was wiped out. I had several hundred points of Battle Fatigue added for good measure. As a result of my negative HAM bars, I was in a permanent incapacitated state while my pet Graul Mauler (who was supposed to be tanking) ran around intimidated while the Krayt was owning everyone in 1-2 hits. I got knocked back so hard that my head got stuck in the boulder. No troll.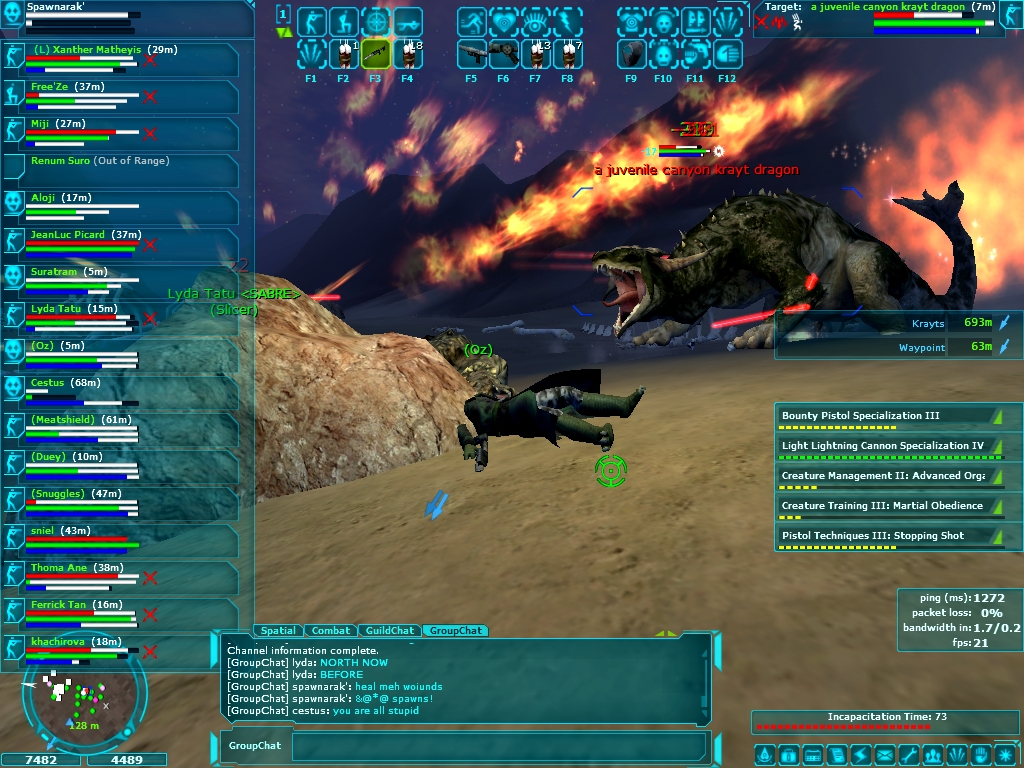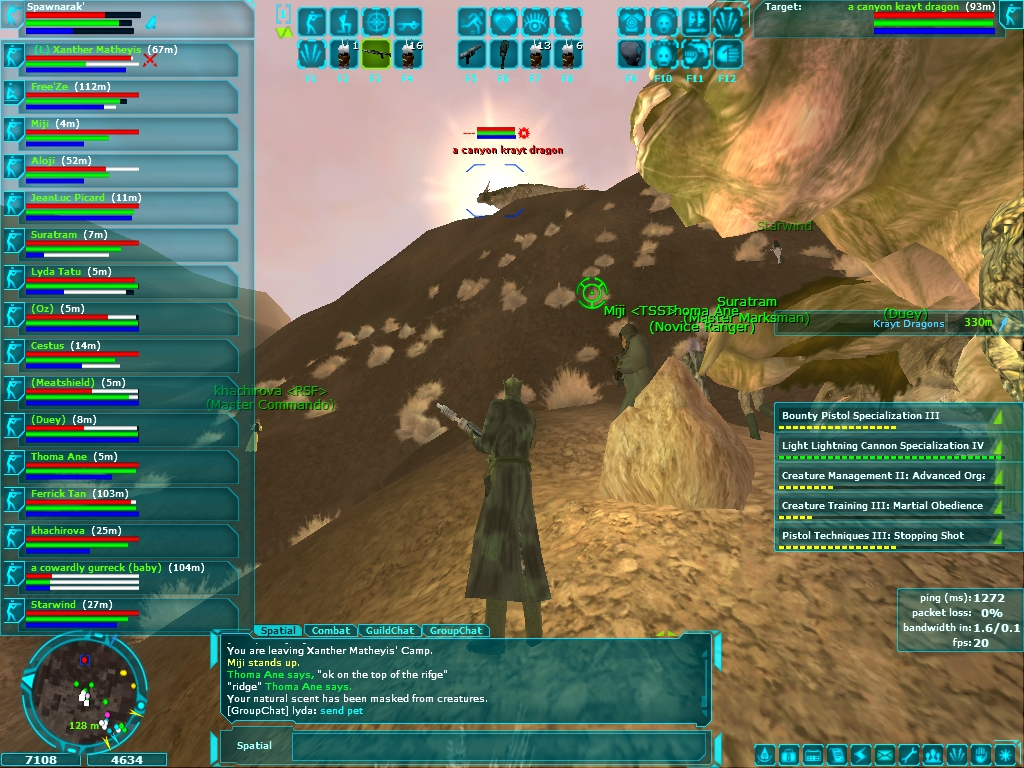 Krayt Dragon Ancient
Natural Level: 90
Health: 135-142k
Aggressive: Yes
Stalker: Yes
Deathblows: Yes
Social: Yes
Tamable: No
Mountable: No
Difficulty: Boss
I was taken back into permanent incapacitation mode. This time my action bar (green) was wiped out completely just like the mind bar. It was the literal definition of getting owned, especially with medpacks being useless due to my 1000+ Battle Fatigue meter. We were thousands of meters away from the nearest Cantina.
My pet Graul Mauler, Meatshield, continued to tank against the Krayt while I lay in purgatory-mode.
The Graul, sometimes also called Grauler, was a large predator from the planet Dantooine. It was the planet's top predator and similar to the rancors of Dathomir except for the skin tone, which tended to be more green, and a pair of horns protruding from its head. Graul were known to eat their young.
Natural CL: 80
Aggressive: Yes
Stalker: No
Deathblows: No
Social: No
Difficulty: Normal
Special Protection
Kinetic – 45.0%
Blast – 60.0%
Heat – 60.0%
Cold  – 60.0%
Energy – 20.0%
Statistics
HAM: 9,700
Eff vs Energy: 12,125
Eff vs Kinetic: 17,636
Ranged Attack: No
Social: Yes
Baby rarity rating: 5.24
Pet worthiness rating: 7.48
Gnarled Rancor
The gnarled rancor was a species of rancor that could be found on Dathomir. In 1 ABY, Shibb Nisshil hired a spacer to get a DNA sample from one, so that he could create an army of cyber-rancors.
Deathblows: Yes
Ferocity: 10
Difficulty Level: 46
Special Protection
Energy – 30.0%
Heat – 50.0%
Cold – 50.0%
Electricity – 50.0%
Statistics
Special Attack 1: Knockdown
Special Attack 2: None
Base-To-Hit: 0.47
Damage: 395-500
Attack Speed: 2
HAM: 10,800
Eff vs Energy: 30,857
Eff vs Kinetic: 21,600
Ranged Attack: No
Social: Yes
Baby rarity rating: 6.29
Pet worthiness rating: 8.38
Back to Star Wars Galaxies Chronicles