Warning
: Undefined array key "width" in
/home/vikasreddyd/public_html/wp-includes/media.php
on line
1648
Warning
: Undefined array key "height" in
/home/vikasreddyd/public_html/wp-includes/media.php
on line
1649
Star Wars Galaxies' planets were enormous. Running from one end to the other on foot would take a crazy amount of time. The game did not hold your hand and walk you through every task. There were many secret areas and easter eggs in the game world that players had to discover for themselves. On certain planets, the nearest shuttleport could be several kilometers away. Dying meant repeating the entire journey all over again after you wake up in a cloning facility on the opposite end of the planet.
Many guilds took upon this challenge. Exploration was what made this game special. You could take the same path to an old hunting ground or visit a friend's house and all sorts of unpredictable shit happens – just the way it should. Moosacca (and his alt Aice Eavie) of Trinity Republic has traveled to major points of interest in the game in his SWG career. He was also a very talented fisherman for a Wookiee.
Adventure. Excitement. A Jedi craves not these things.Yoda
A Guide to Exploration
The planets in Pre-CU Star Wars Galaxies:
 Life as a Creature Handler
My first aspiration in Star Wars Galaxies was to become a Bounty Hunter, which required mastery in the starting professions, Marksman and Scout. Training and getting XP for Master Scout was also a pre-requisite to Creature Handler. I wanted to reap the benefits of wrecking people's shit with different exotic creatures from the galaxy. For a long time, a Creature Hander's pets actually did 100% of their melee damage against other players in PvP. Afterwards, a nerf made it so players could only inflict 25% of their base damage against other players to prolong PvP combat. Creature Handlers dominated the GCW and pets like the Rancor and Graul were a common sight on the front-lines of any large assault.
Pet damage was later nerfed to a fraction of its base damage after many players complained about the OP capabilities of certain monsters. A player rarely had over 1000 hitpoints per bar but a creature had several thousands. Rarer sub-types of species had 100% resistance to specific damage types (like energy) and used special status changing abilities like bleeding and disease effects. Elusive giant spider species found only on certain planets were known to spread disease states that would last even after death, inflicting wounds and eventual death upon re-cloning.
A Guide to Creature Handling
Hunting elusive creatures in the deserted reaches of space was fun as hell. Skinning your game, which produced resources to craft items like leather, was lucrative for the wallet and the XP bar. Special materials were more valuable than others. Setting up camps was also an important part of long hunts away from towns. No profession was better than the Ranger at trekking across regions at a quick pace without being detected.
Other Rare Creature Handler Pets (Pre-Nerf)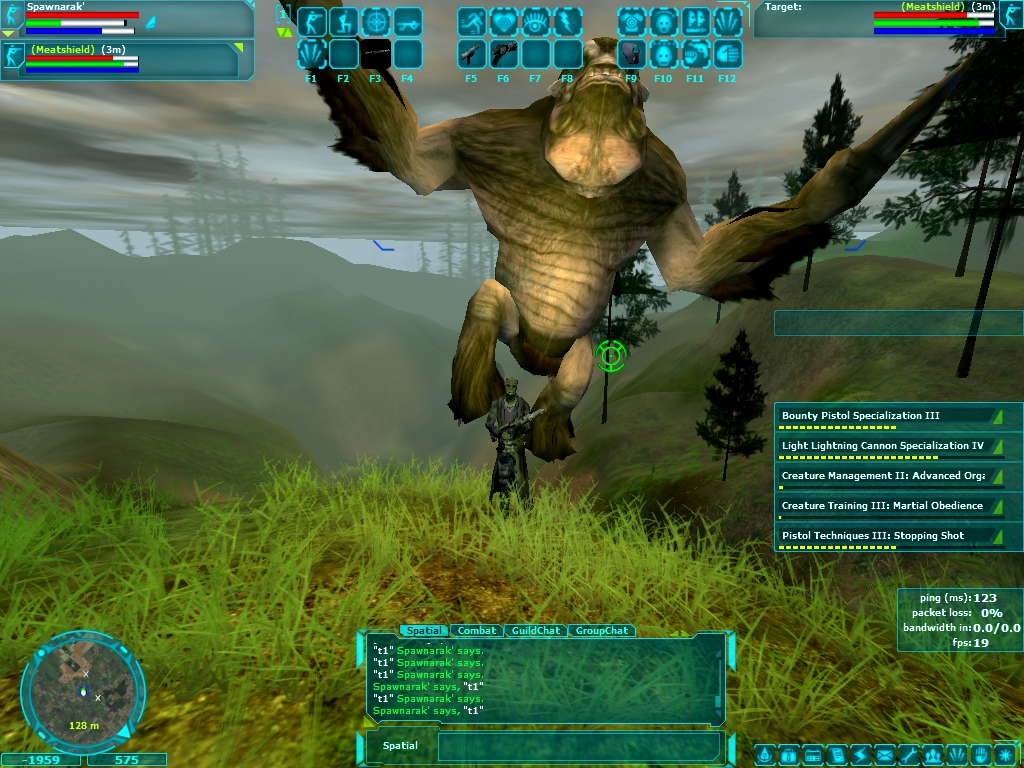 Back to Star Wars Galaxies Chronicles